TOM T MOORE's Most Benevolent Outcomes   
   and Benevolent Prayers     
MBO's can assist you in creating the most favourable, Best Possible Outcomes for your highest and best good with Divine Miracles & Magic .
Request Most Benevolent Outcomes Daily and see how your life can change! You say them to your Guardian Angel for yourself only and Benevolent Prayers are what you can say for others.
The "Most Benevolent Outcomes" protocol Tom T Moore teaches is
"Guardian Angel , I request a Most Benevolent Outcome for [what it is you want ], thankyou" 
Say them outloud or write them down there is no limit to the amount of times you can say them for anything at all. YOU only need to say them once for a specific request.
A "Benevolent Prayer" is one you say for someone else and Tom T Moore's protocol for this is:
'I ask any and all Beings to assist…..in a Most Benevolent Outcome for ……..thankyou .
Saying MBO's brings us closer to the Angelic higher realms as we work with our Guardian Angel to cocreate our life!
I created a collection of MBO's in a MS Word file.  There are a selection of MBO's in the following categories: Daily MBO's, Self Love Growth & Happiness MBO's, Health & Fitness MBO's, Relationships MBO's and Work & Money MBO's.  Right click the following link, then select save link as, OR save target as, depending on your browser, to download the word file to your computer.  MOST BENEVOLENT OUTCOMES
For more information about Most Benevolent Outcomes visit Tom T Moore's website www.thegentlewaybook.com and his great blog with weekly newsletters of Most Benevolent Outcomes from lots of people at: www.thegentlewaybook.com/blog You can also look him up on Facebook at https://www.facebook.com/TomTMoore6
This webpage,  Angels-Guides-Getting-Started , has all the info on Most Benevolent Outcomes for easily reading up and learning about them, and all Tom T Moores info too !!!!
 
The Gentle Way- A Self Help Guide for those who Believe In Angels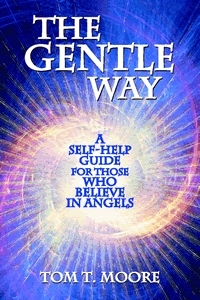 MOST BENEVOLENT OUTCOMES- TOM T MOORE
The Gentle Way: A Self-Help Guide for Those Who Believe in Angels
By Tom T. Moore Published by Tom T Moore, 2006
ISBN 1891824600, 9781891824609 140 pages
To buy Online from  www.BookDepository.com with
Free Worldwide shipping,  click the book image on the left or click HERE 
VOLUME 2 ALSO AVAILABLE NOW
–How to achieve goals you have set for yourself in life;
–How to find the perfect job for you;
–How to find the perfect place to live;
–How to travel in safety;
–How to find that special person to share your life with;
–How to handle the major challenges we all experience in life.
This self-help book will put you back in touch with your guardian angels or strengthen your spiritual beliefs. You will have more fun and less stress in your life. It will assist you in achieving whatever goals you have set for yourself in your life.
It will assist you in handling those major challenges we all experience in life. This book will even inspire you to learn more about our world and universe.
But this is a self-help guide, so that means that it requires active participation on your part. What you are going to read in this book is unique information that you have never seen before!
This book is for people of all faiths and beliefs — the only requirement is a basic belief in angels.
How can Tom promise all these benefits? It's because he has been using these concepts over eleven years now and he can report these successes from direct knowledge and experience by requesting Benevolent Outcomes. But as he points out, this is a Self-Help Guide, so it requires participation on your part.
Claire Papin, Host of "It's All Good" on Sirius Satellite and Lime Radio had this to say:
"The Gentle Way has brought me closer to a better understanding of the Divine communication with our Angels. In working with Tom's guidance, I now have a supportive tool for creating a gentler path with benevolent outcomes that I use to take for granted…a vital tool for anyone who wants to live a more blessed and purposeful life"
The Monthly Aspectarian–Chicago, IL, July Issue 2006
"…The Gentle Way shows how to get in touch with or expand your connection with your Guardian Angel. Written for people of all faiths, it offers tips and suggestions in requesting the most benevolent outcome in our daily life, whether at home or work, traveling for pleasure or even if we find ourselves in dangerous situations. …Filled with success stories from family and friends, Tom Moore shares with us how our angels are right beside us waiting to help; all we have to do is ask."
Brad and Sherry Steiger, authors of Real Angels, Guiding Spirits, and Heavenly Hosts:
In his inspirational new book, The Gentle Way: A Self-Help Guide for Those Who Believe in Angels, Tom T. Moore tells us that he has discovered an easier path in life that we can all take to reap great benefits on a daily basis. We, too, can contact our Guardian Angel and achieve "Benevolent Outcomes" for every aspect of our lives from our business dealings to our personal family relationships. Moore isn't interested in proving to us that his techniques work. He shows us how we can prove such positive outcomes to life problems for ourselves through direct experience.

   ROBERT SHAPIRO's Benevolent Magic   
   and Living Prayers    
This is the original work by Robert Shapiro called Benevolent Magic and Living Prayers and the link  below is to his ebook, titled "Benevolent Magic". This book gives you guidance and alot of information about Benevolent Magic and it's available for free, so read it online or put it on your smartphone mobile, or get it printed like I have.  You can buy this as a book also. I love this book for getting to the essence of what this practice of saying Benevolent Magic and Living Prayers is all about !!!
 
http://benevolentmagic.com/pdf/benevolentmagic.pdf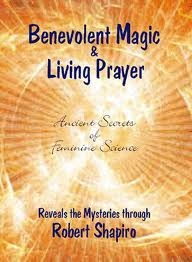 "This book is intended to cover, at least in a beginning way, manners and methods by which you can create for yourselves benevolently and create for others benevolently. This book is intended to teach you the ancient wisdom of gentle methods of feminine creation. This little book is truly important, and the other little books channeled through Robert will serve those who want to know more. The more these little books get out, the more I feel others will want to know more. I feel that the little books are meant to be carried with you and to be acted upon". -Grandfather
"I want to remind you, to let you know immediately, that the purpose of these little books, what these books are intended to do, is to nurture, to support and—by their very titles, as well as how the books read—to serve you, to improve the quality of your lives and to support you in supporting yourselves and others". -Isis
Introduction To Benevolent Magic
Benevolent magic can only be used benevolently, even if it is accidentally (or otherwise) said in some way that isn't benevolent. It will still only work as long as the experience for everyone is benevolent, including those who cooperate consciously or otherwise with bringing about your request. Benevolent magic is a request, not just words. Many of you will feel energy after you say the request. The fundamentals of benevolent magic are what you say and how you say it. Benevolent magic is provided by loving beings to help allow you and train you as a global community to begin doing things that will support each and every one of you.
Topics Include
Ask for Anything—No Limitations

Personal Safety and Relationships

Money and Abundance

Finding the Right Work

Perfect Home and Health

Beings Who Need Help

Peace on the Planet

Welcome the Results
       ERIKA's Suggestion for you      
So my guidance to you is to use the words and format you love the most, and that fits your beliefs and create your own onderful requests, however it pleases you. The Angels love all prayers and requests and take them straight to God for you. A very easy way to do all of this: simply hold in your heart your wish and then just release it to God and forget about it, knowing and trusting that God has it, and will take care of your wish in the best and highest way for your good !!!
Erika L Soul