* QUANTUM K Sessions with Soul Erika *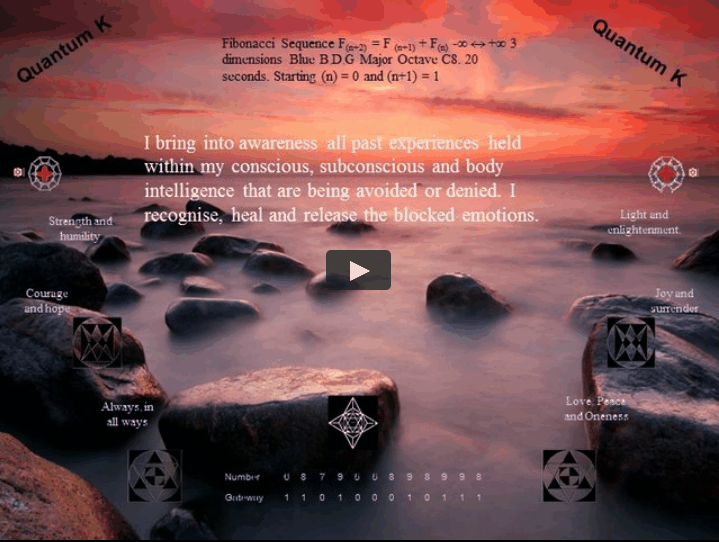 Quantum K  is based on the combination of sound, colour, fractal geometry, harmonics and symbols and accesses the Zero Point Energy Field. There are no tricks or complex system to learn or acquire, just the opportunity to take a Quantum leap into infinite possibilities for you and your healing journey you are on. To experience a Quantum K session is to lie down and receive a download of the Quantum K healing system which your body receives integrates and works with. The original system Quantum K is based upon was created by Brian Tuner, then modified by Andrew Kemp into its current form.
To learn all about Quantum K you can visit his great website, and watch the video he created, which will give you an easy way to receive Quantum K.There is a free manual you can download chapter by chapter to read and print as a book. This book then becomes the healing tool you can use to receive the download of Quantum K for your own healing sessions.All is explained on Andrew Kemp's Quantum K website, and his manual gives you all the information about this system. How it originated, and how he has worked with Brian Jenner's original system to create this version.
THE website to check out what Quantum K is www.quantumk.co.uk/ . The Link for watching the Quanum K video is  http://www.quantumk.co.uk/quantumk_video.htm . Here is the link to the Manual http://www.quantumk.co.uk/quantumk_read.htm
ABOUT SESSIONS
You can simply come for one session to experience Quantum K and then book in anytime you want another session, or you can come for weekly Sessions of Quantum K healing for 6 weeks duration, totalling 6 sessions.This is a healing system that works on all levels of your being, mentally emotionally physically and spiritually. You may also purchase a printed version of the Quantum K manual from me. You can then continue at the end of 6 weeks to give yourself the Quantum K healing, via the manual with confidance and experience of how it works with you.
During the first session you will receive a download of the Quantum K and it will work with you during the session and beyond. If you have more than one session, you can read the manual between sessions from the Quantum K site.You may ask questions and learn more about this method as we go and If I can answer them I will, or help you in integrating this process. These sessions are in person in my reading healing practice room in Bayswater North. Payment is a minimum donation of $60.
 * Booking a Quantum K Healing Session * 
To book a Quantum K session below call Erika on 0397294972 or email bookings@rainbowhealings.com . Payment for an Quantum K session can be made by Paypal (instant payment), OR thru Internet Banking (Takes 2 days) 
Quantum K session is $60