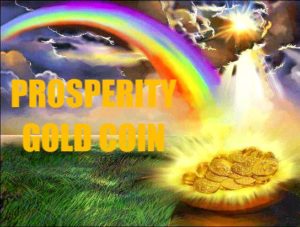 WIN a Prosperity Gold Coin OR a Ticket to our Group Money Attunement 21 Days SRC Program !!! Every month I conduct a week long Event on facebook via my Soul Energy Healing group and it's only open for group members. At the end of the month all going to this Event are entered into a DRAW and can win one of these two Gifts.
During the Event I facilitate Financial Miracles and energise the whole Event with the energy of the Prosperity Gold Coin. All going to this facebook Event can receive Financial Blessing and Money Miracles as they open to receive these Blessings. You are welcome to join this Prosperity Gold Coin Monthly Draw as you wish to each month.
 MONTHLY DRAW PROSPERITY GOLD COIN WEBPAGE www.rainbowhealings.com/newmonthlydraw

PROSPERITY GOLD COIN:
This Money Miracles Coin is energetically imprinted with the Spirit of Prosperity, Abundance and Wealth. It is a Money Blessings Coin and is a Magnet for Money designed to attract Money, lucky opportunities, financial blessings, Work, and more prosperity and wealth into your life.It is a Divine Money Miracles manifestor ! It is drawing in the energy of Abundance, increasing the flow of abundance and increasing the amount you are allowing yourself to receive. 
If you do WIN the Prosperity Gold Coin I will do my best to contact you via facebook once the Draw is done, and this Prosperity Coin will be sent to you in the mail to your postal address. If I cannot get in touch with you after 7 days then I will redo the DRAW and it will go to the next person. I will do a post announcing the two winners in the Event. So please come and check if you have won so we can arrange your gift. The person who wins a free Ticket to our 21 Days Group Money Attunement will have their name entered into this great SRC for 21 Days of the coming month.
HOW TO ENTER THIS FACEBOOK PROSPERITY GOLD COIN MONTHLY DRAW.
If you are on facebook you may join my Soul Energy Healing facebook group and then after the 21st of the month the Event is posted in the Group and will show up under the Events tab. To Enter this DRAW simply CLICK GOING TO ATTEND THIS EVENT !!!! To BE ENTERED IN THIS DRAW, you will need to CLICK JOIN this Facebook Soul Energy Healing Group Event so that it shows up that you are GOING. I take the list of names GOING and all names are numbered and if your number comes up you win one of the Prizes.
If you do a search the title of my healing facebook group is "Soul Energy Healing – Erika L Soul" or use this link
https://www.facebook.com/groups/SoulEnergyHealing/
To learn more about the Prosperity Gold Coin visit www.rnbwh.com/goldcoin
To read up on the Group Money Attunement SRC or to buy yourself a ticket
www.rnbwh.com/moneytrain
Erika L Soul
Miracle Readings & Healings
www.rainbowhealings.com
Save
Save
Save
Save
Save