This real money coin is energetically imprinted with the Spirit of Prosperity, Abundance and Wealth.  It is a Lucky Money Coin and a Magnet for Money designed to attract Money, lucky opportunities, financial blessings, Work, and more prosperity and wealth into your life. It is a Divine Money Miracles manifestor ! It is drawing in the energy of Abundance, increasing the flow of abundance and increasing the amount you are allowing yourself to receive.
It helps to release your resistance to financial wellbeing and transmutes old mental and emotional blocks to your success, prosperity, money and happiness. The energy of this coin will attune you to the Energy of Money and be a Money Attractor, bringing forth Divine Money Miracles.  Embedded and energised into the Coin are Divine Energy Processes and Prosperity Blessings. The Coin contains a powerful thought form for clearing Money issues and attracting the right work and income for you. You can place it on your third eye to really activate its healing properties.
Hold it often, keep it close with you on your body and touch it to feel the Coins Energy. As you protect its energy and hold it as sacred this will enhance its benefits to you. It is meant to be held and felt as this is its way of connecting with you and connecting you to your abundance. It is your Money Super buddy and is helping you to feel and be wealthy. Angels of Abundance and Prosperity come to assist you financially via this Prosperity Blessings Coin.  The Energy of this Coin is set high to help raise your energy up to the highest and best level for you. Within it is a Vortex of Prosperity which will join with your energy field and you will find it easier to think and feel prosperous.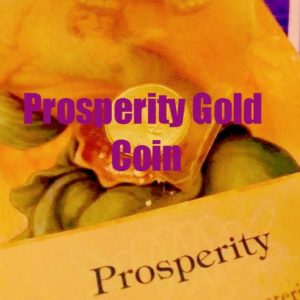 Much more is within this Coin than I can say here, it is  a G
olden Spiritual Coin
to help you to become all that you truly are and be the wealth that you are within. It restoreth you to yourself and the Divinity within. This coin is continously gifting you a Healing MONEY session and attracting money to you. Treat it as a super Money Buddy in the physical that you can hold and cherish.
False illusions drop away as you vibrate to the Universal Energy more and more and you become a Magnet for all your Good. So hold the coin when you feel any lack thoughts or fear and worry about money and allow the coin to clear this for you and bring you into the energy and vibration of Plenty and Joy, Blessings and Money Miracles.
The only requirement for all of this is your ALLOWING and Willingness for all of this to become true for you and to create financial miracles in your life. 
It will continue to work with you as long as it needs to, if you pass it on to someone else it will bring its blessings to them and you will lose nothing but only gain from your gift of giving.
Best to leave the mind out of this as it may not comprehend how the Coin can be really doing all of this, however you only need an open heart and mind. It is well to look after the Gold Prosperity coin energetically and keep it separately on you or close to you, in its own pouch or case. I have mine in a Crystal cage you can buy in crystal shops for a few dollars and I have a few small citrine crystals to wedge the coin in there and I wear this on a necklace so it is always with me. 
I frequently upgrade all Prosperty Gold Coins I have given to people  so they all receive higher Money attunements I facilitate and any new energies and blessings I am guided to do for each new coin, so then all Coins I have ever done receive these new additions automatically. 
AS you believe in this Prosperity Coin to bless you financially it will however if you doubt it will and its ability to do this then this is not about the Coin but your resistance to receiving its Blessings. IF you feel it hasn't changed anything for you and is not working for you then give it to someone you would like to Bless with Prosperity and see what occurs for them and then if you want another one for you contact me and give a donation to receive another Coin.
It is a real money coin (Australian $1 or $2 coin) and the colour is Gold but it is not made of Gold or there would be a huge price. I have used a real money coin as this has the true energy of money and your mind accepts it is money and therefore this is more powerful as a money attractor for you !
The value of this Gold Prosperity Coin is beyond money and enriches you on all levels of your being.
This whole webpage here is attuned with the Energy of the Prosperity Gold Coin so just by being here reading about the Coin you can receive financial blessings, Divine Money Miracles and the Prosperity Gold Coin working with you. Just view the page and feel it helping your finances and whatever your need or situation is. You may also receive all of this via a Prosperity Gold Coin Money SRC energetically over a period of a month for $40, just go the Bookings page for SRC4U on this website and purchase a individual Money Attunement SRC and state that you want the Prosperity Gold Coin SRC in the details box and you can add any details of your finances and work situation into this also !!
 

How the Prosperity Gold Coin began
The first Prosperity Gold Coin I created was when I was staying  in the country a number of years ago and I found a $2 coin under the dresser in the bedroom I was sleeping in and I got very inspired to make it a Money Blessings Coin which I promptly did with some divine Energy work. I then gave it to the guy living there who since moving into this home he had bought had not found new work yet, he had always had work in the city and been successful in his employment, but this was a small country town he had moved to and he had bought a lower priced  home in which to live. He was very open and receptive to this Coin and its magical properties helping him and a few weeks later he found work. Over a few years he progressed in his work situation and was happily employed and valued at his new workplace. This is due to his own efforts with some extra help from his Prosperity Coin.
After this I began making them for friends and family giving them for free as a financial blessing, everyone was very happy to receive them and enjoyed their gift. It took me a long while to put this Prosperity Coin on my website and offer it for purchase, as I did not know how I would charge money for a coin. But one day I got over this impasse and realised an amount I would be happy to receive for it. Now the Prosperity Gold Coin travels around the world to many new places, to India, the UK, America, Europe, Australia, Africa and it's very happy to bless and enrich so many peoples lives.
In the 3 Prosperity Gold Coin video playlst below,  I am sharing all about The Prosperity Gold Coin and I am also facilitating much Soul Energy Healing on MONEY throughout these 3 part video series. In the videos I am sending Money Angel Blessings and Money Miracles to all viewing them. You can watch one at a time or all together. Even though the focus is on The Prosperity Gold Coin these videos are also a Money Prosperity Blessings Session with me Erika L Soul utilising the Coin to facilitate Prosperity Blessings for All.
Here is a Map of where The Prosperity Gold Coin has travelled to around the World now.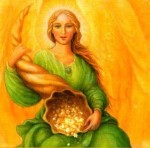 How to receive a Prosperity  Gold Coin
You can make a payment using the link here below via Paypal or by online banking (Australia only) with our Ecwid shopping cart. Once your payment is received and you have given your name and correct address with your payment then the Prosperity Gold Coin will be posted to you. If you live locally in outer east Melbourne then you may ring and collect yours in person. It does time to prepare your Prosperity Gold Coin as it is attuned just for you and your needs, so please be patient as your Prosperity coin may take a few weeks to reach you. I would love to hear from you that you got it and if you can come back here and share anything with your journey with your Prosperity Coin it would be wonderful and bless us all.

The cost to receive a  Prosperity Gold Coin is $33 which includes postage and handling cost. If you wish to come and pick one up directly from me its $30 in Bayswater North Melbourne Australia.

BUYING A PROSPERITY GOLD COIN AS A GIFT FOR ANOTHER: A Prosperity Gold Coin is a wonderful Gift to give someone so if you purchase one for someone else please share their name and address details via email to me stating who it is for otherwise it will be sent to you.

PROSPERITY GOLD COIN & 21 Days Group Money Attunement BUNDLE
You can also purchase a Prosperity Gold Coin as part of a Bundle which includes the 21 Days Group Money Attunement SRC described here. The cost of the Bundle is $44. This bundle includes 2 months of tickets for the 21 Days Group Money Atunement SRC, valued at $20 and The Prosperity Gold Coin cost of $33, a gift of Prosperity at $44. And now for the first time we are offering a new option of purchasing 2 Bundle packages for $80, so for an extra $36 you are receiving 2 Prosperity Gold Coins and 4 months of receiving the 21 Days Group Money Attunement SRC cocktail. If you do want to get this special Bundle  for yourself and to share with a loved one you will need to contact me to arrange this thankyou. 

Purchase a Bundle of The Prosperity Gold Coin and a GROUP Money Atunement SRC
PROSPERITY GOLD COIN MONTHLY DRAW
WIN a Prosperity Gold Coin OR a Ticket to our Group Money Attunement 21 Days SRC Program !!! Every month I now conduct a week long Prosperity Gold Coin Monthly Event via my Facebook Soul Energy Healing group and it's only open for group members. At the end of the WEEK all going to this Event are entered into a DRAW and can win of these two Gifts. During the Event I facilitate Financial Blessings and Money Miracles and energise the whole Event with the energy of the Prosperity Gold Coin. All going to this facebook Event can receive Financial Blessing and Money Miracles as they open to receive these Blessings. You are welcome to join this Prosperity Gold Coin Monthly Draw as you wish to each month.

HOW TO ENTER THIS FACEBOOK PROSPERITY GOLD COIN MONTHLY DRAW.
If you are on facebook you may join my Soul Energy Healing facebook group and then after the 21st of the month the Event is posted in the Group and will show up under the Events tab. To Enter this DRAW simply CLICK GOING TO ATTEND THIS EVENT !!!! . I take the list of names GOING and all names are numbered and if your number comes up you win one of the Prizes. THE first Prize is winning The Prosperity Gold Coin and second prize is a free ticket for our 21 Days Group Money Attunement for March.
"Soul Energy Healing – Erika L Soul" Facebook group https://www.facebook.com/groups/SoulEnergyHealing/
Stories of the Prosperity  Gold Coin ~
I invite you to leave feedback if you have received one of my Prosperity Gold Coins on how you felt receiving it and what it has enhanced for you as in any experiences related to the Prosperity Coin. Simply leave a comment here below in the Comments section, thankyou. It is wonderful to read your experiences and how the Prosperity Gold Coin is blessing you and your life.
Here is my own Sharing on my Prosperity Gold Coin
:
If I  feel any  concern about money, I often use the Prosperity Gold coin to clear this, I put it on my forehead, and just allow whatever I am feeling and thinking to be there, and focus on the Prosperity Coin and let it clear this for me or I just hold the Coin or touch it . I find that after a little while I feel much clearer and in a better state. It lifts my vibrations and energy to a more prosperous level.
One day after I left  a supermarket I felt alot of fear around money and having enough and while walking through the shopping centre I realised it all may not be mine but others stuff I was aware of, so I put the Gold Coin on my forehead not caring what people thought and after a minute or two all was clear and I felt no concern over money anymore. It was a great clearer of these thought forms for me. 
I always love to have my Prosperity Coin on me. Daily I am becoming more prosperous in my consciousness, things are shifting and changing within and without over time to higher levels of prosperity and giving and receiving. I have many more stories of me and my Prosperity Coin and over time I may share some more of them here, thankyou  Erika L Soul.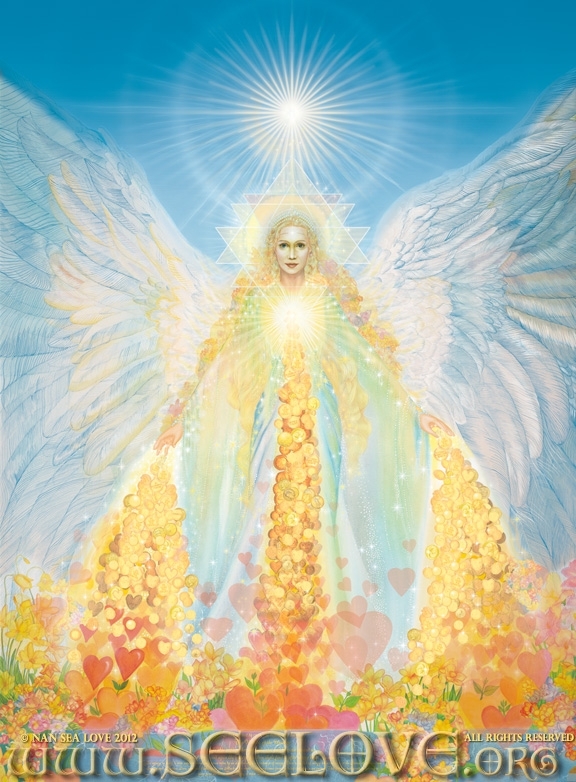 Here is The Angel of Prosperity from Nan Sea Love that just by gazing at her she can assist you with clearing your beliefs about money and lack and ask her for anything you need help with regarding your finances and to increase your Prosperity Consciousness. This image is available to buy as a poster from Nan Sea Love's website.
 Your Experiences of  the Prosperity  Gold Coin

Save
Save
Save
Save