Ho'oponopono Resources

  
Here
are links to Ho'oponopono related websites, information, products and recordings, and all highlighted titles are live links
.
Flor-de-lis is a cleansing process that releases memories of bloodshed of constant warfare and slavery to ideas, places, situations and beliefs that result in constant warfare. The way to use it is to say out loud or silently: "I put the Flor-de-lis on the situation"
WEB SITES

 
Self Identity Through Ho'oponopono (SITH) This is the website for SITH and for all trainings in ho'oponopono in weekend workshops, for articles, information, and is the form of ho'oponopono that I advocate.

Who's in Charge?

 

by Ihaleakala Hew Len-complete explaination of ho'oponopono process.
Posts workshop information for Australia plus the Australian official website for IZI LLC.
Ceeports "oh my"!

Get your Ceeport's here offered through Dr.Hew Len's Ho'oponopono site.
ZeroLag Cleaning Website : Dr Ihaeakala's Website: for books, Zerolag Cleaning Pass, Radio Shows, videos  and more.
ZeroWise Website:for Cleaning Requests, Zerowise Products, videos and more.
"Cleaning is a path to Zero and Inspiration. "– ihhl
Divine Inspirations for You

  This blog has been created by Erika L Soul  and has many ho'oponopono posts and info in the archives labelled ho'oponopono.
Beautiful story Of Keola the inner child and ho'oponopono, best explaination of Ho'oponopono!
Ho'oponopono Pule (Prayer) This is the process of cleaning in the whole form that you can clean with until you are able to  attend a Ho'oponopono class.

Al McAllister's Ho'oponopono website. He hosts weekly hooponopono cleaning conference calls in Brazil and moderates  Ho'oponopono Cleaning yahoo group.  Alexander has made many ho'oponopono cleaning paintings and other resources .
The Secret to Ho'oponopono Popular article by Joe Vitale.
Aimee's story

:

Aimee Rousseau's story

of Ho'oponpono and her excellent description of  Ho'oponopono and her many healing paintings

.
Business by You

More from Dr. Len and a creative solution Business Problems
Ho'oponopono & EFT

:

Together another example of a healing technique in combo with       Ho'oponopono
Steps in the Journey

 

A wonderful blog that details Ho'oponopono and more great links
Saul Maraney's Hooponopono website

 

Ho'oponopono resources, summaries in note forms, special ho'oponopono recordings and much more.
Saul Maraney summarised Joe Vitale and Dr Hew Len's book – "Zero Limits" in 384 points
These Spiritual tools are used with permission from Springboard Consulting LLC from the teaching of Self Identity through Ho'oponopono. .
..
Great resource of ho'oponopono healing-info and videos, worth a look.
 

RECORDINGS & VIDEOS
There are many videos of interviews with Dr.Hew Len on YouTube if you search for Dr Ihaleakala Hew Len. There are also Ho'oponopono  recordings I have created and some by others on our

Audio Recordings page
I love you Ho'oponopono song

 

by Sushumna,

a kirtan style chant with the cleaning phrases and its a beautiful recording to sing along with the cleaning

tools.

Ho'oponopono Cleansing Memories  Video
As you watch this Ho'oponopono Healing Images Youtube video, created by myself and my partner Michael  you can focus on any problem, issue, relationship or concern .As you listen and watch these images and words they will assist you in letting go of the memories that created the issue. Feel the peace of the words and music take you to the clear zero state of freedom from being run by past memories and beliefs and allow the divine within you to inspire you instead. A lot of the images are ho'oponopono cleaning tools that you can eat or have around you. To access some of the pictures on this video go to this link of  my facebook Ho'oponopono lovers page and look in the photos section.
My Ho'oponopono Playlist:

this is my playlist of all Ho'oponopono videos I like this is on my youtube channel Erika.L.Soul
BOOKS & PRODUCTS
Ceeport 

  All Ceeport products are available through this official site of Dr. Hew Len's.

Zer

oLag Cleaning Website : Dr Ihaeakala's Website: for books, Zerolag Cleaning Pass, Radio Shows, videos  and more.
ZeroWise Website:for Cleaning Requests, Zerowise Products, videos and more.
"Cleaning is a path to Zero and Inspiration. "– ihhl
These products are unique inspirations based on Self Identity through Ho'oponopono®. They are made available to mankind for the first time since the beginning of creation. Each product fulfills the prime purpose of our existence ~ to mend our thoughts back to nothing, leaving our minds free to be one with the Divine Source again. And in this oneness, experience absolute love, purpose, clarity, and joy. – KR
Intentional Treasures

  

Suzanne Burns, PA to Joe Vitale, her products that clean !!!
Got Hooponopono:

  Hooponopono Cleansing Tools:  Blue Glass Bottles, Ho'oponopono affirmation stickers, & MP3 meditation  recordings
Mabel's products
  CEEPORT pins, an Audio Recording with Dr.Hew  Len,  books – Mabel Katz
This is a book by Charan Surdhar for children ( and even adults) Heba, a Hawaiian fairy, takes you and your son or daughter through a magical journey teaching Ho'oponopono, an ancient Hawaiian healing technique, giving your son or daughter the ability to recognise how powerful he or she is and opens up possibilities for healing on SO many levels.
This is my Facebook Ho'oponopono Lovers Page. I have created this Ho'oponopono Lovers page for sharing resources, inspiring Ho'oponopono stories and for cleaning together. It is infused with healing energy so that whenever you visit you are receiving Healing Ho'oponopono energy to cleanse you of whatever is going on within you to zero. Please feel free to share this page with others who like Ho'oponopono as this is an active page with lots of Love Joy and Inspirations.
I also have a facebook Group for cleaning together The Ho'oponopono Lovers Cleaning Room 
Prints of Hooponopono paintings
If  you would like any of my paintings as a A4 printed laminated sheet , the cost is the postage, printing, laminating and my time. So for each print it's $4 and include $5 for cost of sending them, thank you. If you order a number of them I can do a cheaper price for the quantity you order. Simply email me at 
SoulErika
Erika's Cleaning and Clearing YOU painting Number 1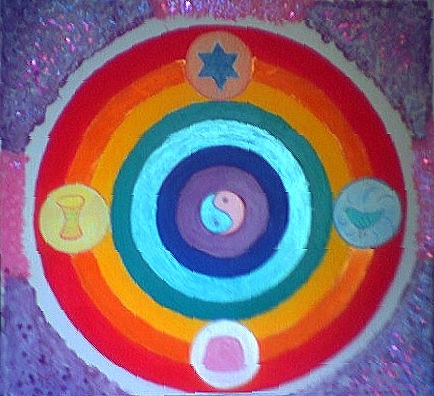 Erika's Cleaning and Clearing YOU painting Number 2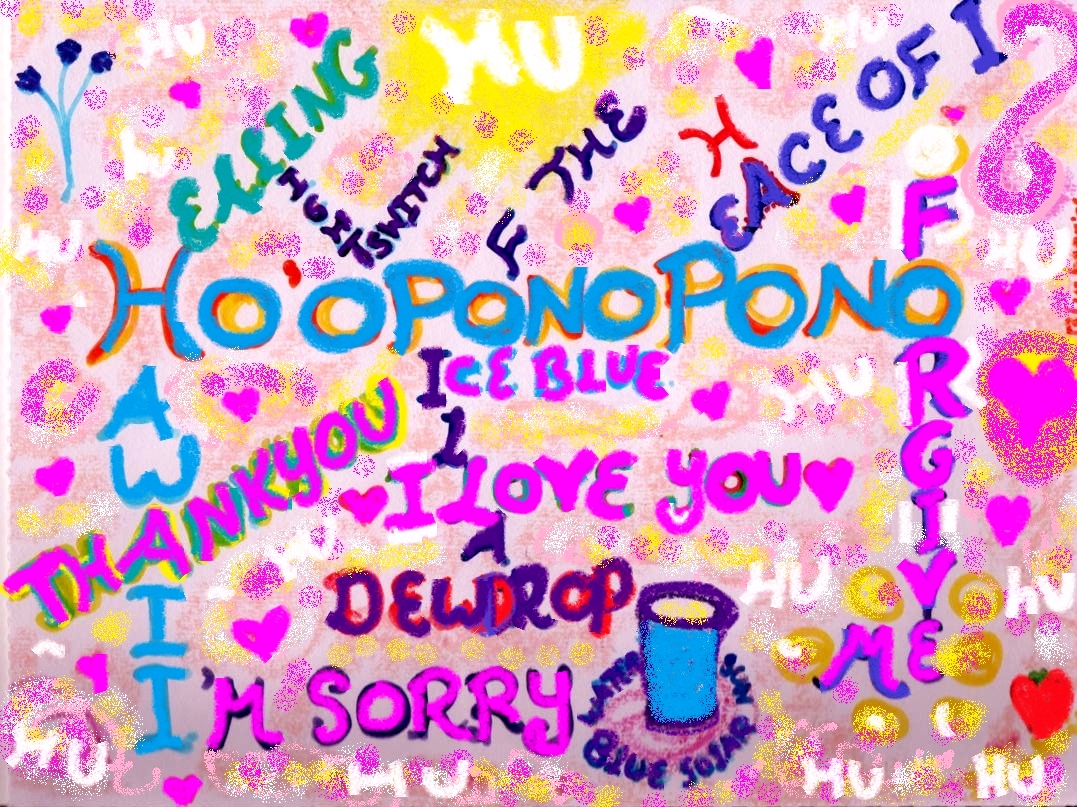 Erika's Cleaning and Clearing YOU painting Number 3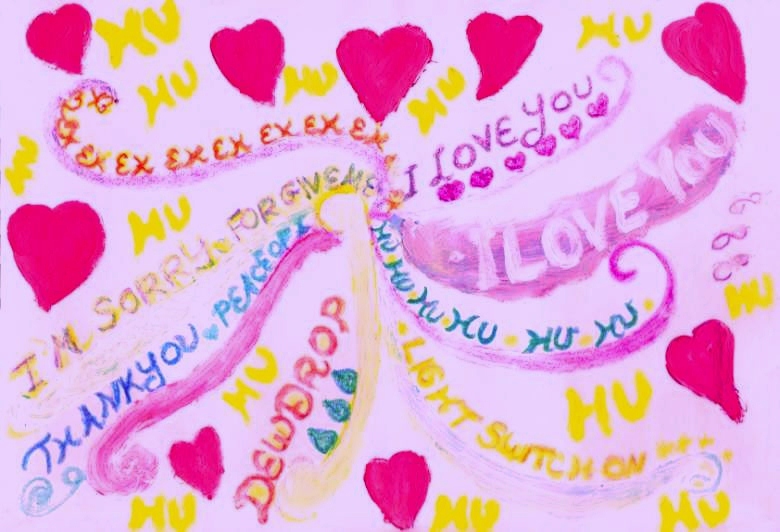 This is a Ho'oponopono Healing painting I created, so that when you gaze at it, its cleaning you of memories, ie programs, beliefs & negative feelings while you view it. If you are feeling an issue bugging you, look at this painting till you feel clear at zero. I have infused it with healing energy and set the energy to do this for anyone viewing it. For any issue going on within you, just focus on the issue as you view the painting and this will do the cleaning to zero. You can also send the memory or problem into it to be cleaned as well.