Erika L Soul~ Healings~ Readings~ Access Bars ~ Angels ~ SRC4U~ Energy Dowsing~Quantum K
Soul Energy Healings
,

Divine Angel Readings

,
Energy Dowsing, SRC4YOU program
,

QuantumK

,

Access Bars Sessions

,
Most Benevolent Outcomes
,
*
Healing Readings
*
Energy Readings
*
Spiritual healing
*
Theta
healing
*
Angel Healing
*
Palm Readings
*
Health
*
Emotional wellbeing
* Healing Relationships
*
Energy
healings
*
House
Energy
healings
*
Ho'oponopono
*
Forgiveness
of Self & Others
*
Clearing
Spiritual
~
Mental
~
Emotional
blockages
* Manifesting
techniques
*
Healing
tools
*
Spiritual
Reconnection
*
Spiritual
Counselling
*
Inner Self
Healing
*
Releasing and healing
Trauma
*
Money
*
Business ~Work~ Career
*
Life purpose
*
Family
*
Relationships
*
Children
*
Spiritual guides & Masters
*
Guided journeys
into Higher realms
* Past lives, dreams
*
Karma
*READINGS with Soul Erika*
Divine Angel Healing~Readings
:
As a
practitioner of Theta healing, Divine Angel Readings are a blend of Soulerika's many skills. She weaves between Oracle cards, Healing Stories, Aura and Energy reading, Divine guidance and healing messages for you. SoulErika is a Healing Heart Angel, a Spiritual Reader and shines a Light to show you the way so that you can regain your happiness and find your direction.
Erika L Soul gives intuitive insightful readings, Divinely inspired for each person's needs. She combines her many gifts, training and experience with Divine guidance and unconditional Love, and beautiful Oracle cards.
Erika L Soul
is a healing channel of Loving Divine energies and gives healing Angel readings.
Joy, Openness and Love are her keys to connecting with the Angelic and Spiritual realm. She loves being a Healing Heart Angel, one of many serving humanity. SoulErika has the ability to communicate the messages and teachings of Divine Beings, receiving guidance and messages from those of other dimensions of existence to people open to receiving this in a reading . One of her gifts is having the ability to share these higher teachings with others. SoulErika simply speaks the words that are needed in the moment. As an Angel Channelling Guide she continually works on fine tuning this gift and Meditates, listens and follow the guidance she receives.
Soulerika gives Readings tailored to each person needs in that moment and has many ways of giving a reading to suit that person and their enquiry, it may be a tarot reading , a palm reading , a spiritual reading or energy reading that you receive ,if there is a style you prefer you can request this. Each reading becomes an open door for you to walk through if you choose to another level of understanding yourself and your situation or issue.
The readings can be transformational for you as each minute you receive all that you require to transform yourself and your life. Soulerika is a conduit for the frequencies for this to occur and holds the space for you to receive what you require to fulfill your needs.
Much goes on in a session that is beyond what is physically occuring and being said that is an energetic transmission that you receive if you are open to it and this can then be accessed by you at any time in the future as knowledge knowingness truth answers etc.
There is no set way your reading will occur as each reading is only about you and what you require at that time. SoulErika will be whatever it is you are needing at that time to facilitate your session so she can be a totally different Healing Angel Reader for each person using different reading styles and ways of conducting a session just for you to fit your vibration and needs. If you contemplate on your Healing Reading session beforehand asking for what you want from it and what you want to know the Universe will conspire to deliver this to you in your Reading session.
Your reading can be on anything at all you like, your love life, worklife, money, children, family, health, relationships, and more !
I will use any style or reading that suits what we are doing, it may be tarot, palm reading, oracle cards, reading your energy, any way at all that is best suited for you.
In Person Readings Private Readings are in person in Erika's private Reading room in Bayswater North, a suburb of Melbourne.
Phone Readings ~ Help Line
Call MY very busy Phone Helpline to receive Divine healing Assistance , encouragement and Love, Receive Positive Support, Divine Guidance. Receive Healing messages from the Angels, Spiritual Counselling and Healing Energy via my Transformational Healing Readings. Times are flexible.
Payment is in advance.
Skype
Readings
Skype readings by phone or chat are now available and can be booked in very easily. My skype id is erika.l.soul.

Payment is in advance.
Taster *1ST Time Client Readings* 15mins for $20!!
If you are a first time client you can request to receive a
15 min reading for only $20
, this is if you haven't had a session before with Erika L Soul
. Your Reading can be in person or by phone or Skype. If you wish to extend the Reading session past 15 mins then my full rates apply.
Payment is in advance for phone or Skype readings.
Times are flexible.
Group Readings and Party Bookings
Divine Angel Readings
for private home parties, private and public functions, engagement, weddings & hens nites, expos, clubs, swinburne/tafe colleges, schools, work/corporate functions, Spiritual & psychic festivals, open house days, community groups. Call for a quote on 03 97294972, fee is by hourly rate of $120 or per reading. Each Reading is either 10mins or 15mins depending on how many people wish to have a reading. A 10min reading is $20 and 15 mins is $30, the rate is $10 per 5mins.
* Book a READING Session *
Bookings, Times & Rates and Payment Methods
Payment for any of the readings below can be made by Paypal (instant payment), OR thru Internet Banking (Takes 2 days), by clicking thru to my
:
Please note that payment in advance is required for Readings by Phone, Skype or Distance.
Readings for 75 mins
In Person, By Phone, Skype or Distance is $120.
Readings for 30 mins

In Person, By Phone, or Skype is $60.
Readings for 15 mins

In Person, By Phone, or Skype is $30.(new clients $20)
* HEALING Sessions with Soul Erika *
The Power and Energy of the All
Healing within a loving Vortex of Energy
Dynamic Healing at the Soul level
Experience Healing Miracles
Awaken and Heal Your Life
Transformational Healings
Soul Energy Healing
is
Transformational Healing
that works on all levels
of your being. Each session is a Creative journey for you with SoulErika, yourself , your spiritual helpers and guided by the Divine . Move into higher states of consciousness easily and divinely by loving, accepting and releasing the load that you are carrying. We do this the happy gentle Way. In this Spiritual healing session we will use various healing modalities to Clear your mind~body~spirit of negative energy, beliefs, blocks and emotional baggage. Experience an improvement in yourself and your life by Releasing the past.
Healing techniques that may be used in your session in any combinations are: Energy Dowsing, Theta healing, Abundance of Light Healing, Angel Healing, Access Consciousness Clearings, Ho'oponopono, Sacred G ,Vibrational Healing, etc etc etc.
A divine recipe for you is created with healing processes that work well with your state of consciousness. Before your session take note of any issues that surface or any happenings. As well reflect on what you may want to release transform or experience and bring this with you.
Your session starts from the moment you are booked in with SoulErika. After the session your new journey begins, and feel free to call or email Erika with anything you want to share that's happened for you. You can have this session in person which is preferable if you can, or it can be conducted over the phone or via skype.
If you can attend in person, then these sessions are held in
S
oul
E
rika
's
private practice room in Bayswater Nth. You can bring a friend or family member with you and both have a session separately. Please feel free to tell anyone you feel would enjoy and benefit from a Soul Energy Healing session.
You can also receive a Soul Energy Healing session

via distance healing

, where you email me what's going on for you that you wish some help with, and I will do any healing techniques I am guided to do for you, including ho'oponopono. I will then email you details of your healing session and any guidance that comes through for you and a outcome Reading.
A full sessions goes for for approx 75-90 mins for $120 or a 30 min session costs $60.
*Booking a HEALING Session *
Bookings, Times & Rates and Payment Methods
Payment for any of the

Healing sessions

below can be made by Paypal (instant payment), OR thru Internet Banking (Takes 2 days), by clicking thru to my
Healings with SoulErika Shopping Cart page here
Please note that payment in advance is required for Healing sessions conducted by Phone, Skype or Distance.
Soul Energy Healing session for 75-90mins, In Person, By Phone, Skype or Distance is $120.
Soul Energy Healing session for 30 mins, In Person, By Phone, or Skype is $60
Maximum 3 Item Distance Clearing Session from $60 to $150.
* ACCESS BARS Healing Sessions with Soul Erika *
~ What is Access Bars? ~
BARS' on our head represent specific life areas: money, sexuality, creativity, control, body, ageing, joy etc. These BARS are energised by gentle hands on energy work to release old thought patterns to reveal a refreshing new concept of life.This process is for everyone, Adults, Children, Elderly and Pets.To get more details about BARS go to this page on my website for it Access Bars page
~ACCESS BARS Sessions I am now offering to the public Access BARS sessions as a BARS practitioner. I run them in my Rainbow Healings practice in Bayswater Nth Melbourne Australia and I have a room and massage table for giving Bars sessions. I can do other Access Body processes for facilitating the bodies healing which are separate sessions to BARS which you can enquire about for healing the body. If you would like to book a session with me you may call 0397294972, call or sms text Mobile 0411798393, or email . A FULL BARS session with Erika L Soul is $90 for approx 90mins, and a SHORT BARS session is $60 for approx 60 mins, for pensioners, children or those on a low income.
* Booking an ACCESS BARS Session *
Bookings, Times & Rates and Payment Methods
Access Bars full session, for approx 90 mins. In Person (only) is $90.
Access Bars Short session, for 60 mins. In Person (only) is $60, .
* QUANTUM K Sessions with Soul Erika *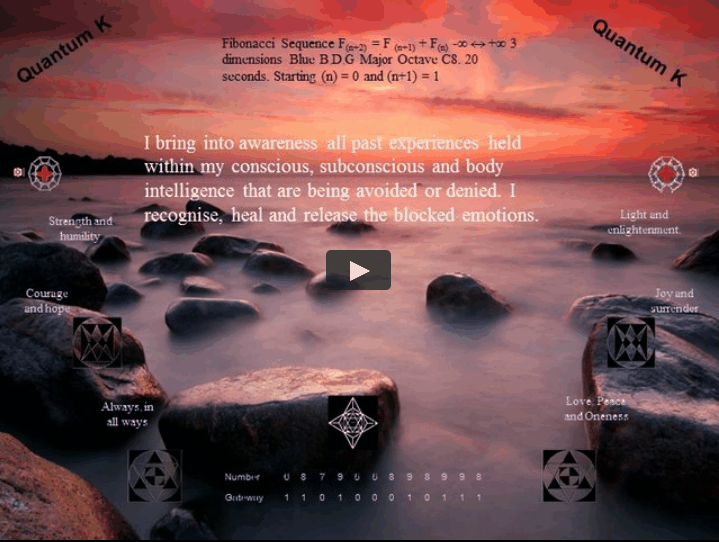 Quantum K is based on the combination of sound, colour, fractal geometry, harmonics and symbols and accesses the Zero Point Energy Field. There are no tricks or complex system to learn or acquire, just the opportunity to take a Quantum leap into infinite possibilities for you and your healing journey you are on.
To experience a Quantum K session is to lie down and receive a download of the Quantum K healing system which your body receives integrates and works with.
It is created by Andrew Kemp and he modified it from Brian Jenner. To learn all about Quantum K you can visit his great website, and watch the video he created, which will give you an easy way to receive Quantum K.
There is a free manual you can download chapter by chapter to read and print as a book. This book then becomes the healing tool you can use to receive the download of Quantum K for your own healing sessions.
All is explained on Andrew Kemp's Quantum K website, and his manual gives you all the information about this system. How it originated, and how he has worked with Brian Jenner's original system to create this version.
What I am offering is to give you a session and experience of Quantum K. You can ask questions and get a copy of the manual for the cost of printing or download the manual from the website and print it yourself.
THE website to check out what Quantum K is www.quantumk.co.uk/
Link for watching the Quanum K video is http://www.quantumk.co.uk/quantumk_video.htm
Here is the link to the Manual http://www.quantumk.co.uk/quantumk_read.htm
ABOUT SESSIONS
You can simply come for one session to experience Quantum K and then book in anytime you want another session, or you can come for weekly Sessions of Quantum K healing for 6 weeks duration, totalling 6 sessions.
This is a healing system that works on all levels of your being, mentally emotionally physically and spiritually. You may also purchase a printed version of the Quantum K manual from me. You can then continue at the end of 6 weeks to give yourself the Quantum K healing, via the manual with confidance and experience of how it works with you.
During the first session you will receive a download of the Quantum K and it will work with you during the session and beyond. If you have more than one session, you can read the manual between sessions from the Quantum K site.
You may ask questions and learn more about this method as we go and If I can answer them I will, or help you in integrating this process.
These sessions are in person in my reading healing practice room in Bayswater North. Payment is by a voluntary donation of between $30 – $50.
*
Booking a Quantum K Healing Session

*
To book a Quantum K session below call Erika on 0397294972 or email bookings@rainbowhealings.com Payment for an Quantum K session can be made by Paypal (instant payment), OR thru Internet Banking (Takes 2 days), by clicking thru to my Quantum K Session Shopping Cart page here
Quantum K session the cost is by giving a voluntary Donation of between $30 – $50 and you can give more if you wish.
* Energy Dowsing Sessions with Soul Erika *
In Person, by Skype or by Phone Dowsing Sessions
House and Building Energy Healings if you have a home or place you feel really needs Energy clearing please email me with your name and the place you want Energy healing for. If you want assistance clearing out negativity, entities, raising the energy levels and life force of your home or a place you feel really needs it please email or call me on 0397294972 . Energy clearing can be conducted for yourself your family, raising your self esteem, raising your energy levels and clearing all negative influences from you or for a workplace building , business or organisation or group.
Any specific issues you may have can also be cleared. If you or someone else who wants this done has experienced abuse issues, trauma, victimhood, or can't move on from past hurts then we can do a healing clearing on this. I will use Energy dowsing to do all the above.
.
Following are areas that can be addressed by a dowsing session: Energy Clearing,
Home Energy healing,
Healing from Abuse Trauma,
Prosperity Healing,
Business Prosperity Healings,
Self Esteem Self love and
Relationships life & Love.
By Distance ONLY Dowsing Sessions
You can also have your dowsing sessionby Distance ONLY. IE In absense where I do dowsing on your behalf at my home in Bayswater Melboure Australia. Distance Only sessions can only be for: Home Energy Clearing, Energy Clearing for yourself or a Property Energy Clearing (land or a building ie a workplace building etc) You may choose 1,2 or 3 of these items, and each item costs $75. Please note that payment in advance is required for Distace ONLY sessions.
*Booking an Energy Dowsing Session *
Bookings, Times & Rates and Payment Methods
To book an In Person by Skype or Phone dowsing session,
or a By Distance ONLY dowsing session call Erika on 0397294972 or email
bookings@rainbowhealings.com
Please note that payment in advance is required for by Distance ONLY Dowsing sessions conducted in my reading room by Phone or Skype.
* My "Divine Inspirations For You" Blog *
On my blog I have posted articles I love, healing tools, inspirational verse, stories, art, my inspirations and spiritual stuff. I share some of my healing tools so you can access them. My blog is a beautiful vehicle for me to share what I treasure and love. Click here to visit my Blog
* "Divine Angel Treasures" Emailing List *
From time to time I send out emails on things I come across that I love and I share these gifts with people on my Divine Angel Treasures email list. It maybe an article I love, a free recording that's great, a special message, a beautiful picture, it may be any kind of wonderful treasure, a post I have written on my blog or just some info from me.
To go on this list now, simply enter your full name and email address below and I will add your name to this special service I am offering for free. This is not a business email list or utilised for anything other than for me to share things with people who love to receive what I love to give. To unsubscribe simply reply to the email address of Divine Angel Treasures saying unsubscribe me !! I personally add you and unsubscribe people so it is not a system ! thankyou .